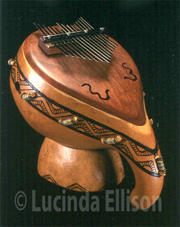 In my work, I strive to preserve those elements of ancient cultures that connect us with the rhythms of life and inspire us to create: sensual forms, natural materials, visual imagery, primitive, soothing sounds…. I hope that by combining art and music, sculpture and sound, my pieces have become healing objects for our eyes, ears, and spirit.
On the left, "Snakes & Beads"; click on image for more detail.
Awards
Best in Show, MeccaFest, Carrollton, GA, Oct. 2010
Best New Artist, Historic Shaw Art Fair, St. Louis, MO, Oct. 2002
Second Place, SONO Arts Celebration, So. Norwalk, CT, Aug. 2002
Third Place, Fine Crafts, ArtiGras, Palm Beach Gardens, FL, Feb. 2000
Presidential Award, American Music Therapy Assoc, Littleton, CO Project, Nov. 1999
Purchase Awards, Kentucky Festival of the Arts, Northport, AL, Oct. 1999
Honorable Mention, Tenn. Craft Fair Exhibition, Andrew Glasgow juror, May 1999
Honorable Mention, Tenn. Craft Fair Exhibition, Lloyd Herman juror, May 1998
Finalist - NEA/Southern Arts Federation Craft Fellowships, 1995/1996
Award of Excellence, 1st prize - Laumeier Art Fair, St. Louis, MO, 1996
First Prize Gallery Eight Art Auction, WDCN Nashville, TN, Oct 1998
First Prize - Sculpture, Smithville National Fiddlers' Jamboree, TN, 1999
Second Prize - Mixed Media, Ann Arbor Summer Art Fair, 1995
Media Award - Main Street Festival, Franklin, TN, 1996
Judges' Award - Great Gulf coast Arts Festival, Pensacola, FL, 1995
First Prize - Best of 3-D, Memphis Arts Festival, TN, 1994
---
Gallery Shows and Events
"Interpretations" creative response to 9/11 – The Georgia Trust @ the ACC Craft Show, Alanta, GA, March 2002
"Recreation/Recreation: Fun with Found Objects" – Noyes Museum of Art, Oceanville, NJ, Jan.-April 2002
"Futureman's Indigenous Planet" - Drum and Percussion Workshop, Nashville, TN, March 2001
"Harmonic Journey" - 2 person show w/ Raymond Carr – Rose Center, Morristown, TN, Jan. 1999
"The Best of Tennessee Crafts" - touring Apr. 1998-Jan. 1999; also in 1996, and in 1994
"Art for the Musical Heart" - Art Independent Gallery, WI, Aug. 1996
"Spotlight '95" - ACC Southeast, touring, 1995-1996
"Best of the Guild" – Michigan Guild, Ann Arbor, MI, June 1995
"Spirit Talk Mbira" – Greater Nashville Arts Foundation, Nashville, TN, Jan.-April 1995
"Masks & Mirrors" - Gallery 500, PA, Nov-Dec. 1994
"Fourth World Musique Meets Cote D'Ivorie" - Commission pieces for performance artist Tim McKay, Memphis in May International Festival, 1994
"Tune In" - Gallery I/O, New Orleans, April-June, 1994
"Instrumentals" - Mindscape Gallery, IL, Dec 1991
"Wood 1991" - Stones Gallery at Kilohana, Hawaii
"Sound Arts" - Vista Fine Crafts, VA, 1989
"The Music Makers" - The Dairy Barn, Athens, OH, 1988
---
Featured in Modern Drummer, DRUM!, Electronic Musician, Experimental Musical Instruments, and Drum Business magazines.
Featured on "Tennessee Crossroads", WDCN Nashville, TN, program #1032, 1996.
Tennessee Magazine cover story, July 2000.